Honorable CM, Haryana, inaugurates portal for Online Registration of Cooperative Societies and Share Transfer for Housing Societies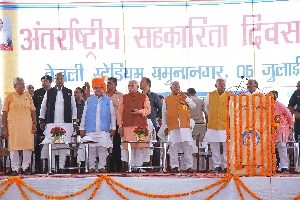 Shri Manohar Lal Khattar, Honorable Chief Minister of Haryana, launched the portal for Online Registration of all types of Cooperative Societies and Share Transfer for Housing Societies (http://cooponline.rcsharyana.gov.in), at Tejli Stadium, Yamunanagar on the International Cooperative Day on 6th July 2019, in the presence of Shri Narendra Singh Tomar, Honorable Union Minister, Agriculture and Farmers Welfare, Rural Development and Panchayati Raj, Shri Manish Kumar Grover, Honorable State Minister for Cooperation, Haryana and Shri S.N. Roy, IAS, Additional Chief Secretary, Cooperation Department. Shri Deepak Bansal, State Informatics Officer, Smt. Chaitali Bhattacharya, Technical Director and Shri Deepak Sawant, Technical Director, NIC Haryana, were also present on the occasion.
Developed by NIC Haryana State Centre, the portal facilitates online registration of all types of cooperative societies and share transfer for housing societies under the state of Haryana, and it has been made mandatory to be done through the portal. The prime objective is to ensure genuineness of the co-operative societies and bring transparency to G2C and G2G workflow based processes.
The portal aims to provide hassle-free registration of any cooperative societies. Any member of group housing/house building society can apply for transfer of share, thereby ensuring transparency among government and citizens. Fake/fraudulent transfers would be prohibited.
Role based workflow process, self signup of any societies, time-bound completion of registration and share transfer process (else the process shall be deemed to be completed), capturing of society details, details of managing committee, details of all members along with members' photos, auto generation of registration and share transfer certificate, intimation though email and SMS, and dashboards and MIS reports for citizens and administration are some of the features of the portal.