Antyodaya Saral Haryana received GOLD award at 23rd National Conference, Mumbai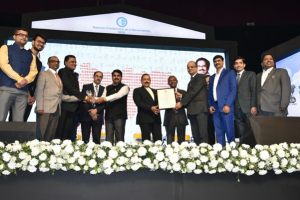 Antyodaya Saral Haryana received GOLD award at 23rd National Conference on e-Governance 2019-20 conferred by DAR&PG in Mumbai on February 8, 2020.
The Haryana Government's determined and persistent efforts to employ eGovernance to make delivery of citizen-centric services to the people time-bound and hassle-free, have been recognized and rewarded by the Central Government. Its "Antyodaya Saral Haryana" Project got the "GOLD" Award in the category of 'Excellence in providing Citizen Centric Delivery' at the 23rd National Conference on e-Governance organized by the Department of Administrative Reforms and Public Grievances, Government of India (DAR&PG) in Mumbai on February 8, 2020. The award was given by Union Minster Sh. Jitendra Singh and received by Dr. Rakesh Gupta, IAS & Project Director CMGGA and Sh. Deepak Bansal, SIO, NIC Haryana & team. The team has received a trophy, citation, individual certificates and cash reward of 2 lacs.
While congratulating the officers, the Chief Minister, Sh. Manohar Lal, said, "It is a matter of great pride for Haryana that the e-governance initiatives of the State government have been recognized and rewarded at the national level." Antyodaya Saral Project has not only helped in curbing corruption, improving efficiency and ensuring hassle-free delivery of services, but has also given Haryana a new identity in the field of Information Technology (IT). The Project was conceptualized in February, 2017 and its implementation began in July, 2017. It involves re-imagining the entire service delivery framework in the state and aimed at bringing about a fundamental behavioural change in the way the government functioned. This has been a huge collaborative effort between 38 departments, District Administration of all Districts, NIC Service Plus team at Delhi and NIC Haryana, with a strong supporting role played by Chief Minister's office and the IT Department to made live 527 G2C schemes and services in a very short span of time.
The key objectives of Antyodaya Saral include bringing all schemes and services on one integrated online platform, establishing state-of-the-art citizen service delivery centres at the district, sub-division and tehsil level; ensuring availability of all schemes
and services at Atal Seva Kendra (CSC), and making sure that schemes and services are delivered to the people of the state in a transparent and time-bound manner.
Antyodaya Saral is replicable across all states as the portal has been developed by the NICHQ, and NIC Haryana. The NIC Haryana team consist of
Sh. Deepak Bansal, SIO
Sh. Alok Srivastava, Scientist-E
Sh. Sundeep Moudgil, Scientist-F
Sh. Raman Deep Kaushal, Scientist-D
Sh. Ashish, Scientist-C
Sh. Ashutosh Dwivedi, Scientist-C
The ServicePlus Team from NIC Delhi who supported the project at national level consisted
Sh. D.C. Misra, DDG NIC
Smt Manie Khaneja , Scientist –F
Aadesh Chand Gupta , Scientist –F
Sh. Shreejith N.P., Scientist –D
Sh. Ashwin Ayyappan, Scientist –D
Sh. Sajjad Abid, Scientist –B